The One Asset Class that keeps growing in value…but real estate is still a great hold!
As a full service appraisal company completing engagements around the world, we often get involved in unique valuations. Recently, we have been involved with or proposed on the valuation of facilities for sports franchises. Taking out the political issues around funding of these facilities and whether or not the investment on the tangible asset side is worthwhile, we definitely see that the value of the franchises themselves appear to be have some immunity from economic cycles and downward pressure on values.
Traditionally, we see economic cycles having 5 distinct phases (1):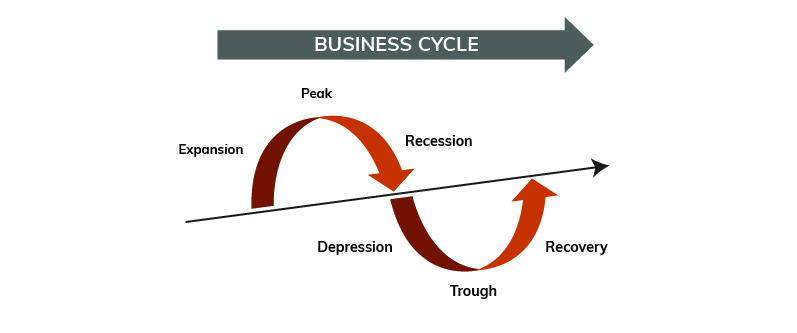 During these cycles we see fluctuations in market value and insurable values, often in recessions we see market values dive while insurable values can stay the same or increase due to pressures as we are experiencing right now with shrinking capacity in the insurance market(s).
Interestingly, sports franchises seem to have immunity from these cycle forces, even if the team(s) are not successful in the field of play. Underlying the immunity is the strength of earnings for these franchises, no matter the general economic circumstance these franchises have expanded their earnings which in turn drives up values."The discount bin is empty when shopping for teams in the major sports leagues. Every NFL, NBA and MLB franchise is now worth at least $1 billion."(2)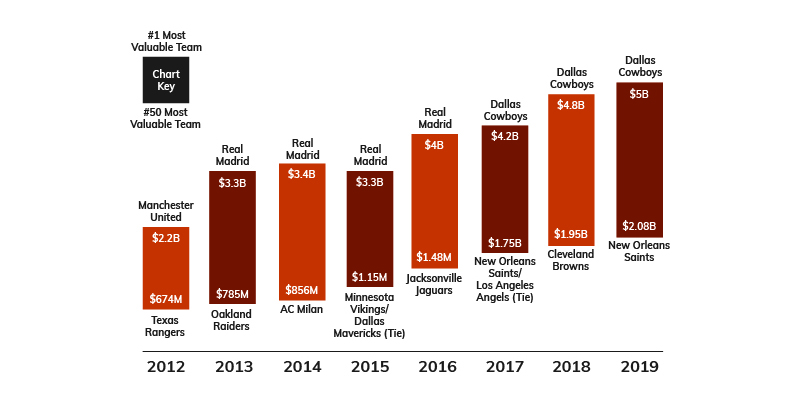 Consider that Jerry Jones (Owner of the Dallas Cowboys) paid $140 million USD for the franchise in 1989. That converts to around $300 million USD in today's dollars, annual inflation was around 2.5% over that timeframe. "In the last decade the Dallas Cowboys franchise value has increased by 220% (see below graph), even the lesser known NFL franchises have grown significantly. "(3) As the graph illustrates the value trend has stayed upward trending.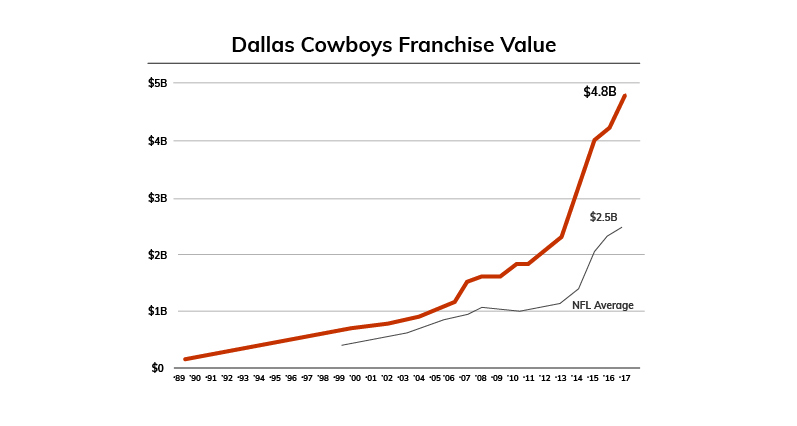 As comparative, let us look at an index of US Real Estate market values since 1998.

All Property CPPI weights: retail (20%), office (17.5%), apartment (15%), health care (15%), industrial (10%), lodging (7.5%), net lease (5%), self storage (5%), manufactured home park (2.5%), and student housing (2.5%). Retail is mall (50%) and strip retail (50%).
Core Sector CPPI weights: apartment (25%), industrial (25%), office (25%), and retail (25%). (4)
As you can see Commercial Real Estate in the US over time has increased but is subject to fluctuations based on economic cycles.
In looking at the volatility in general economic cycles, recessionary times can mean opportunities in real estate. Correlating the below graph on recessionary periods to the Green Street Commercial Property Price Index, we see a similar dip in real estate market values but values have had a general increasing trend. (5)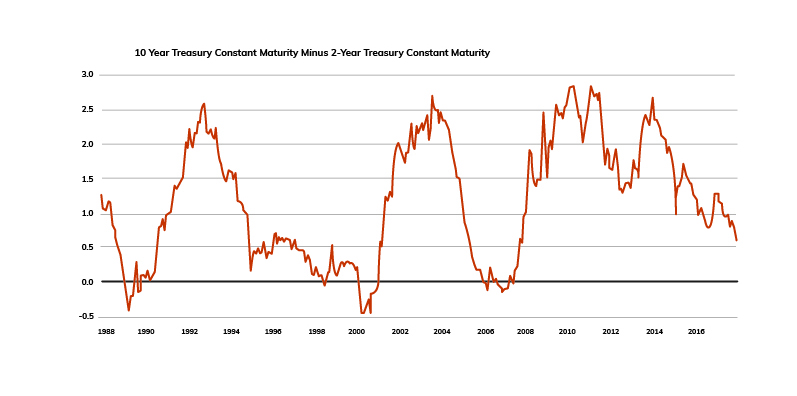 If you cannot own a sports franchise, commercial real estate is still a great hold!
REFERENCES:
Kurt Badenhausen (July 22,2019). The World's 50 Most Valuable Sports Teams 2019.
Cork Gaines (September 26, 2017). Jerry Jones paid a record $140 million for the Dallas Cowboys — the team is now worth $4.8 billion.
Jason Kirby (December 5, 2017). The 91 most important economic charts to watch in 2018.