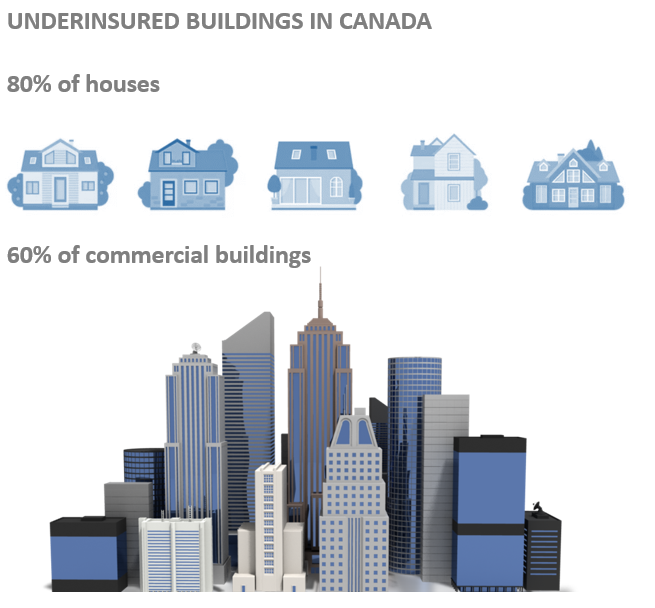 This is what insurance is for. Peace of mind. Bad things do not happen very often, but they do happen.
An unfortunate thing about bad things, other than that they are bad, is that they cannot be undone. This is why we buy property insurance.  Insurance does not undo the bad, but it does help to make you whole again by way of providing the funds to pay for repairs.
Insurance also brings peace of mind. What does that mean? It means that although we know that there is a low chance of that bad thing happening, we also know that if it does happen there will be enough insurance funds in place to rebuild.
Or will there be enough? How do you know? How do you know how much insurance coverage to purchase for your property?  How does the broker or insurance company know? Should you be worried that if that bad thing happens you will be told that you were under-insured?  That is a recipe for two bad things, and zero peace of mind.
According to Canadian Underwriter magazine, approximately 80% of houses and 60% of commercial buildings are underinsured.  And it is estimated that these properties are underinsured by up to 40% or more. Exacerbating this is the recent high rate of inflation.
In one example in 2019, a fire broke out in a 60 unit residential condominium building in Chilliwack, British Columbia, and sadly the building was a complete loss. The residents had been paying their strata fees which included an expense for insurance coverage. However, after the fire occurred the unit owners were told that they were under insured for this loss. To rebuild their homes, unit owners had to pay a special levy of between $36,000 to $57,000 each. Ouch.
How does a property owner or property manager ensure that adequate insurance is in place? Firstly, make sure you are working with a reputable broker. And secondly, engage a qualified appraisal firm such as Suncorp Valuations who specialize in estimating property replacement costs.
Suncorp Valuations has been providing insurance appraisals for over sixty years. We provide services globally, and on all tangible asset types such as buildings, site improvements, and machinery and equipment.
Our appraisal consultants are thoroughly trained and qualified. We follow the highest industry standards such as the Uniform Standards of Professional Appraisal Practice.
Unlike many of our competitors, we obtain our cost data from a variety of reputable sources, and we conduct our own market research including analyzing actual verifiable costs from recently completed buildings. And our production procedures include layers of internal quality control and review.
Let's be honest, although it is rare, mistakes do happen, even at a top-tier firm such as Suncorp Valuations. This is why in addition to our in-depth methods and quality control procedures, unlike many of our competitors we carry comprehensive liability insurance which provides an additional layer of protection for our clients in case of a loss.
How do you get that valuable peace of mind? Start by working with reputable service providers including Suncorp Valuations to ensure you have adequate insurance in place. Hopefully that bad thing never happens to you. But if it does, the last thing you should have to worry about is how you are going to find the funds to rebuild because somehow you were underinsured.
Contact us if you are considering an appraisal, or would like to learn more about them!