Learning Objective: Understanding the requirements of a Fire Safety Plan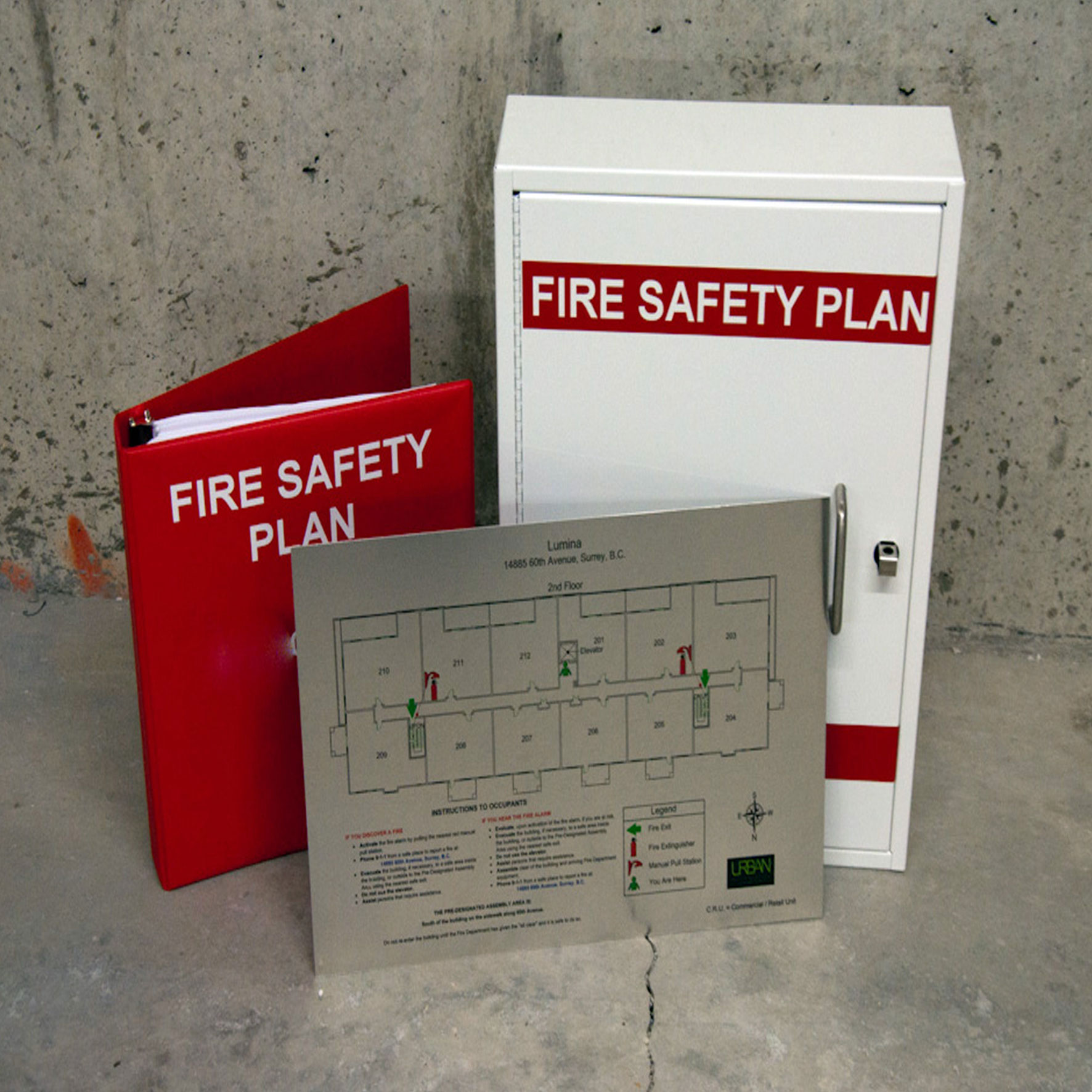 In simple terms, a Fire Safety Plan involves the sounding of a fire alarm, the notification of the fire department and instructing occupants on how to exit the building safely. The requirements & recommended practices for the development and maintaining of Fire Safety Plans in buildings are found in the various National and Provincial Fire Codes. A building owner and/or agent is responsible to develop and implement the provisions of a Fire Safety Plan and should include specific information on the building and its contents.
Fire Safety Plans – Design
A full risk assessment should be provided for each building to determine the potential risk exposures and/or emergency situations.
The Fire Safety Plan for a building must itemize all fire protection equipment, emergency lights, shut-offs, evacuation routes, etc. in place at each facility.
The building safety or management committee should be involved to assist with the design and implementation of an emergency fire safety response plan.
The Fire Safety Plan should be designed based on the requirements of the local Fire Department and may require to be approved by them once complete.
The Fire Safety Plan should be reviewed on a regular scheduled basis.
Documented practices/drills should be completed as required by the Fire Code.
A de-brief discussion should take place with all involved after a practice or drill to answer any questions or make any changes if required.
Fire Safety Plan – Performance Objectives
The Fire Safety Plan should include documented/practiced procedures to follow in the event of a fire emergency.
The Fire Safety Plan development & implementation should account for all local emergency services including fire, police, ambulance, municipal, utilities (gas, power & water), etc.
Keep up-to-date on all Code, Standards and Regulation changes.
Update changes to the Fire Safety Plan as required.
For additional information, contact: Doug Taylor, CRM, CCPI, Managing Director, Risk Management Group
doug.taylor@suncorpvaluations.com or 1-800-764-4454
About Suncorp Valuations
Suncorp Valuations is a leading provider of independent valuation, appraisal, and advisory services. Suncorp's valuations and appraisals have been relied upon by leading insurance companies, public and private companies, property owners and managers, tax authorities, accounting bodies, courts, municipalities and financial institutions from all over the world.
Our valuation and appraisal staff consist of professionals that are highly accredited in the fields of engineering, real estate and equipment appraisal, business valuation, risk management and loss control. Our multi-disciplinary, multi-regional and multilingual staff take an interactive team approach and have been involved in some of the most complex valuation assignments across the globe.
For questions or comments, please Contact Us.